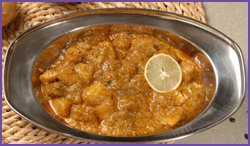 Indian Cooking Recipe : Potato and Brocolli Curry
Ingredients :
1 tbsp olive oil
1 clove garlic, minced
½ tsp ground coriander
½ tsp ground turmeric
¼ tsp ground cumin
¼ tsp ground ginger
? tsp dry mustard
1 ground red pepper
1 potato, diced
1 cup broccoli, chopped
1 carrot, sliced
¼ tsp salt
½ tbsp curry powder

Method :
In a saucepan, sauté olive oil, clove garlic, coriander, turmeric, cumin, ginger, dry mustard and red pepper.
Add ½ tbsp olive oil, water and potato.
Fry, stirring often to coat potatoes with seasonings.
When potatoes are almost tender, add vegetables like broccoli and carrot.
Also put salt and curry powder.
Cover and simmer until broccoli and carrots are tender.
Ready to serve.