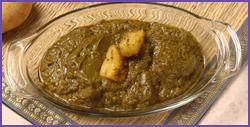 Indian Cooking Recipe : Puli Keerai
Ingredients :
1 bunch spinach, finely chopped
½ cup toovar dal
4 red chillies
4 green chillies
½ tsp imli paste
½ tsp sambhar powder
¼ tsp mustard
a small pinch hing
1 tsp salt to taste
2 tsp cooking oil
a few curry leaves

Method :
Cook toovar dal and keep aside.
Boil spinach with little water and some salt.
Heat some oil in a pan and put the mustard in it.
When they crackle, put hing, red chillies, green chillies, curry leaves and sambhar powder and sauté for a few minutes.
Now add this to the boiling spinach, and add imli paste and let it cook for a few minutes.
Now add the cooked toovar dal. Allow it to cook until the flavour comes out.