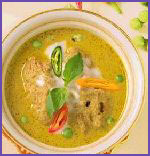 Indian Cooking Recipe : Pulipu Kootu
Ingredients :
Vegetable like white pumpkin, chopped
3 tsp dhania
3 red chillies
¼ tsp methi
¼ tsp channa dal
¼ tsp urad dal
¼ coconut
1 cups toovar dal cooked
½ cup channa dal
Tamarind paste
A small pinch hing
¼ tsp turmeric
1 tsp salt to taste
Method :
Cook toovar dal, channa dal, turmeric with extra water and separate the two. Keep them aside.
Fry coriander seeds, red chillies, methi, channa dal, urad dal, and hing in little oil.
Put the coconut and wet grind this mixture.
Cook the vegetable in toovar dal water. Add some tamarind paste, turmeric and salt to this.
After this is cooked, add the ground paste and keep it to boil until the flavour comes out.