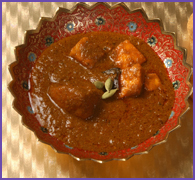 Indian Cooking Recipe : Vegetable Upkari
Ingredients :

6 potatoes
2 tbsp oil
3 red chillies
2 pinches mustard seeds
2 tbsp coconut gratings
salt to taste
asafoetida water
Method :

Skin potato and cut into longish thin pieces.
Wash and keep aside.
Prepare seasoning in frying pan with red chilli bits and mustard in oil.
When mustard seeds splutter, drop potato pieces in pan, add 1 tsp salt and turn over well.
Cook under cover for a few minutes, open lid 2 or 3 times and turn over to prevent sticking to the bottom.
When potato is cooked sufficiently, remove from flame.
Add coconut gratings and a few drops of asafoetida water.
Turn over and serve.