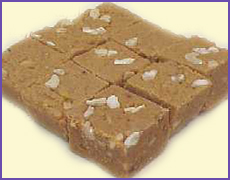 Indian Cooking Recipe : Pumpkin Halva/Halwa
Ingredients :

1 cup white pumpkin
2½ cup milk
¾ cup sugar cup
cardamom seeds
cashew nuts
½ cup ghee
rose water
Method :

Drain off the excess moisture by squeezing using a cloth.
Put milk, sugar & rose water to the pumpkin and cook, until the mixture becomes thick. Stir constantly.
Then put the ghee and cook, until it get separated.
Put cardamoms & cashew nuts and stir.
Drain off any excess ghee from the mixture.
Spread the mixture in a greased tray & allow it to cool for 30 minutes.
Then cut into squares.