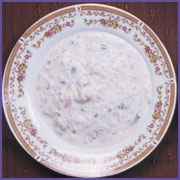 Indian Cooking Recipe : Rice and Coconut Payasam
Ingredients :
1 cup rice
1 cup grated coconut
½ cup jaggery
¼ cup sugar
2 cups milk
¼ cup cashews
2 to 3 tsp golden raisins
2 elaichi
A small pinch edible camphor (optional)
Method :
Soak rice for 15 minutes in little water.
Grind this with grated coconut and boil this till rice gets cooked.
Add jaggery, sugar, and milk to this and cook till jaggery melts.
Fry cashews and raisins in little ghee and add this to the boiling payasam.
Pound elaichis and edible camphor and add this to the payasam.