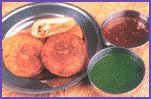 Indian Cooking Recipe : Aalu Bonda
Ingredients :
6 potatoes
8 green chillies
4 tsp oil (for seasoning)
2 cups Bengal gram flour
1 tsp chilli powder
asafoetida water
2 tbsp coconut gratings
oil for frying
½ tsp mustard seeds
¼ lime
a few coriander leaves
1 spring curry leaves
salt to taste
Method :
Wash potato and boil in water. Peel and cut into small cubes.
Cut green chillies and curry leaves.
Drop them, as well as coconut gratings and salt, in a vessel.
Combine potato pieces and put a few drops of asafoetida water. Mash properly.
Put juice of lime. Season with mustard and curry leaves in oil.
Shape balls of the potato mix and keep aside.
Sieve Bengal gram flour.
Make a batter by adding ½ cup of water, salt chilli powder and asafoetida in the flour.
Heat oil in frying pan.
Flatten the balls of potato mix, one by one, dip in the batter.
Remove and put gently in hot oil, and deep fry 7-8 bondas at a time, till it becomes golden brown, turning over once or twice.