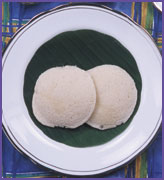 Indian Cooking Recipe : Kanchipuram Idli
Ingredients :
1 cup urad dal
1 cup raw rice
1 tbsp chana dal
¾ cup sour curds
8 cashewnuts
4 green chillies, chopped
½ grated coconut
1 tsp grated ginger
½ tbsp pepper powder
3 to 4 curry leaves
2 tbsp ghee
salt to taste
oil for greasing
Method :
Wash and soak the urad dal and rice together for 4 hours.
Soak the chana dal separately.
Grind the urad dal and rice to a coarse paste by adding enough water.
Keep it to ferment in a warm place for 6 to 8 hours.
Put the curds, cashewnuts, green chillies, coconut, ginger, pepper powder, curry leaves, ghee, salt and the soaked chana dal and stir well.
Spoon the batter into greased idli moulds and steam for at least 10 to 12 minutes.
Repeat the same procedure for the remaining batter.