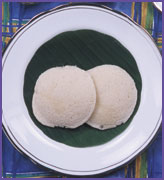 Indian Cooking Recipe : Kanjeepuram Idli
Ingredients :
3 cups par boiled
2.5 cups urad dal
1 tsp dry ginger powder
½ tsp pepper
½ tsp jeera
¼ tsp hing
curry leaves
6 tsp cooking oil
2 tsp ghee
1½ tsp salt
a pinch of baking soda
Method :
Soak par boiled rice and urad dal in water for about 2 hours.
Grind the above coarsely and put hing and salt and a pinch of baking soda to this.
Keep it overnight so that this will ferment.
Sauté pepper, jeera, and curry leaves in oil and ghee.
Add this to the flour. Add dried ginger powder and combine all the ingredients together.
Coat a flat vessel with oil, and pour the idli flour into this and pressure cook for 45 minutes in low heat without pressure cooker weight.