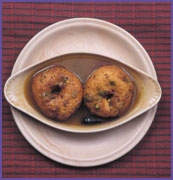 Indian Cooking Recipe : Masal Vadai
Ingredients :
1 pav chana dal
4 green chillies
2 red chillies
4 pepper corns
salt to taste
1 tbsp shredded coconut
2 spring curry leaves
asafoetida water
oil for frying
Method :
Soak chana dal in water for at least 2 hours and wash.
Put in a colander and allow water to trickle down.
Cut green chillies and curry leaves.
Grind dal with red chillies coarsely.
Put salt and pepper and grind for another 2 minutes.
Shift to a vessel. Combine chopped green chillies, curry leaves, coconut shreddings and asafoetida.
Shape the vadai mix into balls of desired size.
Flatten them a bit, one by one.
Deep fry in hot oil, till it turns golden brown and crispy, turning over once or twice.