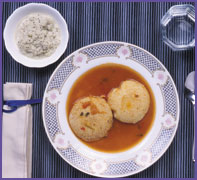 Indian Cooking Recipe : Masala Idli
Ingredients :
1 tbsp Bengal gram dhal
1 pav black gram dal
1 pav boiled rice
1 pav raw rice
oil for greasing cups
1 onion
5 green chillies
5 drops of asafetida
chopped coriander
salt to taste

Method :
Soak black gram dal and the two rices (mixed) separately in water for 3 hours.
First, wash the soaked dal and grind to make a fine paste. Keep aside in a vessel.
Then grind the soaked rice (mixture) to a coarse paste.
Combine both the pastes using hands, put salt and keep under cover overnight.
Next day, beat the batter properly.
Soak 1 tbsp of Bengal gram dhal, in water till it becomes soft.
Chop an onion and a few green chillies finely.
Mix them all with the batter along with a few drops of asafetida and a few coriander leaves (chopped).
Grease idli cups with oil, and fill them (about ¾ full) with the idli batter and steam in an idli vessel for at least 20 minutes.
Pour the batter in the container of a pressure cooker (previously greased with oil) about ¾ full and steam for 15 to 20 minutes.
Remove and cut it into pieces of desired size, with a spatula.