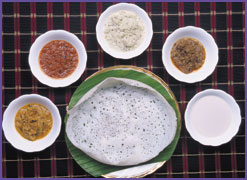 Indian Cooking Recipe : Panpolo (Neer Dosai)
Ingredients :
2 pav raw rice
1 cup coconut gratings
oil for roasting
salt to taste
Method :
Soak rice in water for 2 to 3 hours
Wash. Grind the rice with coconut gratings to make a fine paste.
Before removing from grinder, put salt to it.
Dilute the batter by adding a little water used for washing the grinder.
Smear dosa pan with oil and place on flame.
Spread the batter thinly (when hot), tilting the pan a bit.
Roast dosai on one side only.
Fold it twice to make 4 folds of quarter circle shape.
Ready to serve.