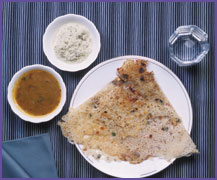 Indian Cooking Recipe : Peseret
Ingredients :
2 cups whole moong dal
4 tsp rice
3 onions, finely chopped
6 green chillies, finely chopped
2 red chillies
small piece ginger
½ tsp jeera
1 bunch cilantro, finely chopped
1½ tsp salt
cooking oil
Method :
Rinse and soak whole moong dal and rice in water for 4 hours.
Grind the above with green chillies, red chillies, ginger, cumin seeds, salt and little onion.
Sauté the remaining onions in oil and keep them aside.
Make the peserat like dosas, and put a spoon full of onions on the dosa and fold the dosa before serving.
Ready to serve.