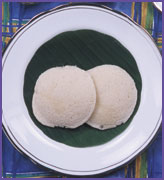 Indian Cooking Recipe : Soornali
Ingredients :
2 pav raw rice
1 cup coconut gratings
1 pav beaten rice
1 small piece haldi
½ cup milk
1 tsp fenugreek seeds
salt to taste
oil for roasting
2 tsps butter milk
Method :
Soak raw rice and fenugreek together, in water for at least 2 hours and wash.
Grind with coconut gratings and haldi.
When half done, put beaten rice (previously washed) and grind to make a fine paste.
Before removing, put salt and grind for a while.
Shift the batter to a vessel.
Pour milk and buttermilk over it and keep aside, under cover, overnight.
Next day, dilute the batter a little with water, if necessary.
Spread the batter evenly (one ladleful) on hot dosa pan smeared with oil, and roast under cover, one side only and then lift it from the pan.