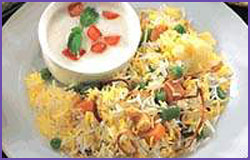 Indian Cooking Recipe : Chitranna
Ingredients :
½ pav green gram dal
½ pav raw rice
7-8 tsp oil
½ tsp mustard seeds
¼ lime
6 green chillies
1 small piece ginger
½ tsp jeera
3 tbsp coconut gratings
1 pinch haldi powder
1 sprig curry leaves
salt to taste
Method :
Wash green gram dal plus rice thoroughly.
Cut green chillies. Mince ginger.
Prepare seasoning, in frying pan, with mustard and curry leaves in oil.
Put chopped green chillies, minced ginger and haldi powder in pan and pour 3 cups of water.
Put 1 tsp table salt. Bring to boil.
Drop rice and green gram dal. Boil. Cover pan. Cook on low flame.
Open lid 2-3 times, and turn over to prevent sticking to bottom.
When all the water evaporates and rice is sufficiently cooked, take out from flame.
(put some more water and turn over if necessary.)
Garnish with coconut gratings and add juice of lime.