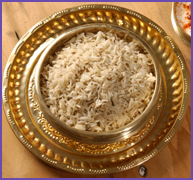 Indian Cooking Recipe : Coconut Rice
Ingredients :
2 cups rice
¾ cup coconut grated
¼ tsp mustard
1 tsp channa dal
1 tsp urad dal
2 red chillies
1 green chillies
A small pinch hing
A few curry leaves
Peanuts
Cashewnuts
3 tsp coconut oil
1 tsp ghee
¾ tsp salt
Method :
Cook rice with less water as you would cook for pulav.
Dry roast grated coconut with 2 tsp of coconut oil until it turns brown.
Combine the roasted coconut, salt and cooked rice, and keep it aside.
Sauté mustard, urad dal, channa dal, hing, red chilles, green chillies, and curry leaves in oil.
Add this to the rice and mix properly.
Fry cashews and peanuts with ghee and add it to the above.