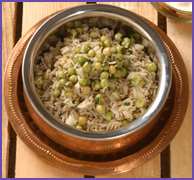 Indian Cooking Recipe : Peas Kulla
Ingredients :
2 cups rice
6 cups water
1 cup shelled green peas
4 tbsp salt
1-2 tbsp masala powder
Cashewnuts (fried in ghee)
Fry brown 2 cups of rice and add 6 cups of water.
Add green peas & cook for about ½ an hour in a cooker.
Lift the lid and add salt. Cover again till the rice is well-cooked.
Spread the cooked rice in a big plate.
Add masala powder & cashewnuts & mix well.
Ready to serve hot.