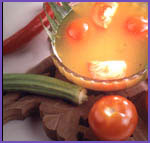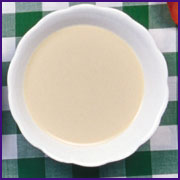 Indian Cooking Recipe : Dal Rasam
Ingredients:
½ tsp fenugreek seeds
1 tsp jeera
12 pepper corns
1 tbsp (heaped) coriander seeds
1 piece turmeric
¼ pav toovar dal
salt to taste
a piece asafoetida (bengal gram size)
4 red chillies
2 sprigs curry leaves
1 tsp oil
½ bunch coriander leaves
2 green chillies.
4 tsp ghee
1 tamarind lump (marble size)
Method:
Put oil in frying pan.
Roast fenugreek, cumin, pepper, coriander, turmeric, asafoetida, 1 tsp toovar dal, red chillies and curry leaves with oil, in the same sequence, till it becomes brown.
Powder the roasted ingredients together in mixer.
Put the washed toovar dal in boiling water. Cook till half done.
Put slit green chillies and boil well.
Put salt to taste and chopped coriander leaves.
Take out juice from tamarind in a bowl.
Combine the above rasam powder and put the mixture to boiling toovar dal.
Cook till done. Season with mustard and curry leaves in ghee.
Put coriander leaf bits. Cover vessel.