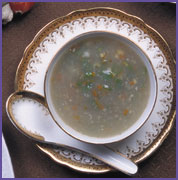 Indian Cooking Recipe : Mixed Vegetable Soup
Ingredients:
1 small carrot
1 florrette cauliflower
½ capsicum
2 to 3 french beans
30 gms sweet peas
1 onion
1 small piece cabbage
½ tsp soya sauce
½ tsp each grated ginger and garlic
¼ tsp crushed red chilli
½ tsp sugar
2 tsp cornflour
1 blob butter
2 cups water
salt to taste
Method:
Cut all the vegetables and heat butter in a pan.
Put ginger, garlic and vegetables. Mix the vegetables properly and fry the vegetables for about 3 minutes.
Put water and allow it to boil. Combine cornflour in ½ cup cold water and add to the soup, stirring simultaneously.
Keep it to boil again. Add chilli, sauce and sugar and boil till it becomes thick and transparent.
ready to serve hot.