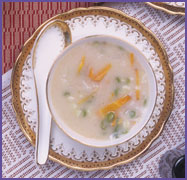 Indian Cooking Recipe : Sweet Corn Soup
Ingredients:
1 corn
spring onion
vegetable stock
5 tsp tomato sauce
1 cloves cinnamon
1 cloves cardamom
2 tsp pepper
½ onion
1 tomato
4 green chilies
salt, sugar to taste

To be ground into paste
onion
tomato
green chilli

Method:
Add the required vegetable stock and the ground paste.
Now take a cloth and put the spices and make that into a small bag
Put the corn and allow them to boil for 20 minutes.
Then put the sugar, salt and pepper and the spring onion.
Now add the tomato sauce.
Take out the vessel and remove the spice bag.
Ready to serve.