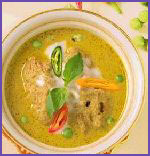 Indian Cooking Recipe : Butter Milk Kadi
Ingredients :
2 cups butter milk (thick)
1 cup water
½ cup coconut gratings
4 green chillies
1 small piece haldi
1 tsp jeera
3 tsp ghee
½ tsp mustard seeds
1 sprig curry leaves
salt to taste

Method :
Grind coconut gratings with haldi smoothly.
While removing masala put green chillies and cumin.
Grind for another 2 minutes.
Put enough water to bring the kadi to desired consistency.
Put salt. Keep it to boil. Then put thick butter milk.
Again bring to boil. Take out from flame.
Season with mustard and curry leaves in ghee.