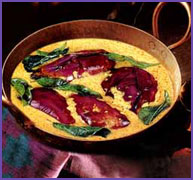 Indian Cooking Recipe : Eggplant Pachadi
Ingredients :
1 Eggplant
1 cup yogurt
2 green chillies, chopped
1 red chillies
a small pinch hing
¼ tsp mustard
½ tsp urad dal
a few curry leaves
cilantro, finely chopped
½ tsp salt
1 tsp cooking oil
Method :
Coat oil over eggplant, and grill or bake it in an oven.
Peel and mash eggplant and keep it aside.
Fry mustard, urad dal, red chilli, green chillies, curry leaves and hing in oil.
Combine this with mashed eggplant. Put yogurt and salt to the above, and combine all the ingredients together.
Garnish with chopped cilantro.