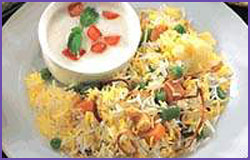 Indian Cooking Recipe : Green Pilaff
Ingredients :
1 cup rice
100 gms peas,
200 gms potatoes, diced
200 gms cauliflower florets
1 onion, finely chopped
1 stick cinnamon
2 cloves
¼ tsp cardamom powder
4 tbsp ghee
salt to taste
To be ground to paste :
6 green chilies
5 cloves garlic
1 big bunch cilantro
1" piece ginger
Method :
Heat the ghee and sauté the onion till it becomes golden brown.
Put the cauliflower and potatoes and fry them for 5 minutes.
Put the ground paste, cinnamon, cloves, and cardamom and fry properly.
Put the rice and fry for sometime. Put salt and water & cook on a slow flame till rice & vegetables are cooked.
Put more salt if needed.