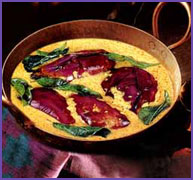 Indian Cooking Recipe : Stuffed Brinjal Sagle
Ingredients :
12 brinjals (small variety)
1 cup coconut gratings
10 roasted red chillies
tamarind lump (marble size)
½ tsp fenugreek seeds
salt to taste
2 tsp coriander seeds
2 tbsp oil
1 small piece gur
½ tsp mustard seeds
1 sprig curry leaves
Method :
Remove stalk of brinjal (small variety).
Cut 3 or 4 slits lengthwise from top.
Wash and keep aside.
Grind coconut gratings with roasted red chillies, tamarind, gur and salt to thick masala (without using water).
When masala is almost ready, put fenugreek and coriander seeds (both previously roasted) and grind for more time.
Stuff brinjals (through slits) with the masala.
Spread the excess masala over them.
Keep aside water used for washing the grinder.
Prepare seasoning in frying pan with mustard and curry leaves in oil.
Drop stuffed brinjals gently, along with water (kept aside) into the seasoning.
Turn over. Cover pan. Cook.
Open lid 3-4 times at intervals and turn over to prevent sticking to bottom.
When brinjals become sufficiently soft, take out from flame.