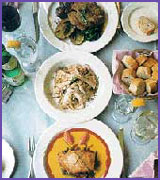 Indian Cooking Recipe : Raj Bogh
Ingredients :
6 bread slices
Cooking oil
Shredded coconut
Cherries
Sugar
Water
Method :
Combine sugar & water. Heat until it becomes a thick sugar syrup.
Heat the oil in a pan and fry the bread slices until it becomes golden brown.
Soak them in sugar syrup. After it absorbs the syrup, remove the slices from the sugar syrup. Cut them diagonally.
Take a slice & place a spoon full of shredded coconut and press with another slice.
Garnish with a cherry in each slice.
Ready to serve.