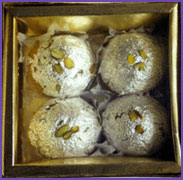 Indian Cooking Recipe : Rava Laddu
Ingredients :
1 cup rava
1 cup sugar powdered
¼ cup ghee
cashews less than ¼ cup
raisins less than ¼ cup
1 to 2 elaichi
Method :
Dry roast rava for a few minutes till the flavour comes out.
Combine this rava with powdered sugar.
Fry cashews in ghee and mix it with the above.
Pound elaichi properly and add it to the above mixture and make small balls.