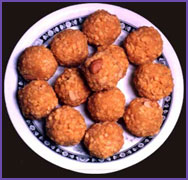 Indian Cooking Recipe : Sev Laddu
Ingredients :
2 pav Besan
1 seer popped rice powder
½ cup cashewnut bits
1 tsp powdered cardamom
1 cup liquid jaggery
lump of butter
crushed sev
Method :
Sieve besan and combine butter and a little water with it.
Make sev by pressing the dough through a sev mould, on hot oil frying pan.
Crush the sev into pieves, when cool.
Prepare a mixture of broken sev, cashewnut bits, powdered cardamom and popped rice powder, and keep aside.
Mix jaggery to a cup of water.
Heat and keep on stirring for a few minutes, till thick syrup is formed.
Take out from flame. Combine the popped rice-cum-sev mixture with the syrup, and turn over thoroughly.
Smear a wooden board with ghee.
Drop the blend on it, in installments.
Shape small parts of the blend into laddus of desired size using palm smeared with ghee.