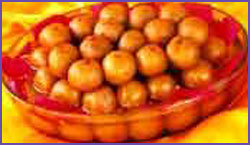 Indian Cooking Recipe : Sukrunda
Ingredients :
1 pav sugar
1 pav maida
oil/ghee for frying
1 pinch saffron
2-3 cardamom pods
½ pav besan
1 pav chana dal
Method :
Wash chana dal. Cook in water till it becomes soft.
Pour the water on top.
Mix sugar to the cooked dal and go on turning over till it forms a lump.
Then put in the grinder. Grind finely without using water.
Before removing put cardamom and grind for a while.
Remove and make pellets of lemon size.
Mix saffron in ½ cup water.
Put maida and besan, stir well and prepare a batter.
Heat oil/ghee in frying pan.
Dip the pellets, one by one in batter and deep fry till it becomes golden brown (turning over occasionally) 6 to 7 at a time.